Domantas Žilinskas
•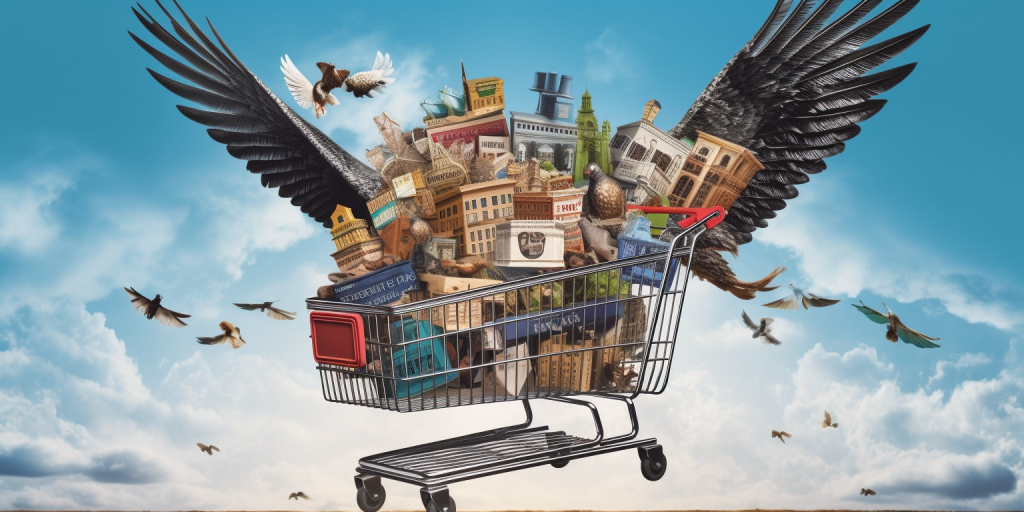 Are you ready to take your e-commerce business to the next level by expanding into new markets?
Breaking into international markets can seem like a daunting task, but with the right strategy, you can unlock incredible growth opportunities for your brand.
In this 3-part guide, I will share our tried-and-tested insights on how to successfully scale your e-commerce business across borders. To stay updated on the entire series, be sure to subscribe to our newsletter at the bottom of this page.
In Part 1, we'll dive into the crucial first step: identifying the perfect market for your brand's expansion.
Part 2 will guide you through researching and executing action items, such as adding appropriate payment methods, optimizing shipping options, and tailoring your website for a new audience.
Finally, Part 3 will reveal proven tactics for acquiring your first customers in a new market and scaling your business effectively.
Let's begin…
Part 1 of Breaking Borders: Identifying Your Next Market and Mastering its Dynamics
Identifying a new market
As a means of identifying new markets, we have various approaches that we can take, but here's the easiest one.
Move to the closest market.
Yeah, I know, it's quite a revelation LOL, but if you have a small brand and limited resources, this is the safest way to go. You won't have to spend a dime on finding your next market, and transitioning to a new market will be a breeze.
EXAMPLES:
If you're selling in the US, the easiest market for you to go in is going to be Canada.
If you're selling in Sweden, the closest markets would be spread into the rest of the Nordics.
If you're currently selling your products in Germany, the next easiest market is Austria.
By doing so, you'll reap quite a few benefits:
Chances are, you'll have a solid understanding of this new market. The culture and people will likely be quite similar to those in your current primary market. Since you already know how marketing works in your main market, it won't be difficult to scale into that new country.
Shipping can be managed from your home country, so it's likely you won't need to establish a new shipping method to penetrate a new market.
Payment methods will most likely be the same as in your main market since close countries tend to have the same/similar systems.
In some situations, you won't even need to translate the website into a different language.
Entering the market closest to you will often mean that you're entering another small market with fewer challenges, less reward, and, of course, less scalability. Of course, this is only applicable to those markets that have small neighboring countries like Sweden, but if you're already scaled in the US and planning to move to Canada, that move could add a big chunk of revenue, so looking for any other country might not be necessary.
But what if your neighboring markets are small and you want to scale faster and wider?
Then I'd recommend you to move into much bigger markets such as Germany, UK, or even the US if you have the right product and resources.
If you're operating in Sweden, for example, expanding to Norway might not offer much room for scalability. Given that Norway's population is half the size, your potential for revenue growth could be limited.
Moving to a bigger market like Germany, Spain or the US, for example… that's another conversation.
The beauty of entering such markets is that you are still going to spend a similar amount of time moving to a new market, but with the number of people there, your scaling capabilities are much more rewarding.
So what if you want more of an adventure?
For example, Germany boasts a population of 83 million compared to Sweden's 10.4 million. If you're going to spend hundreds of your team's hours on cracking a new market, figuring out how to make it work & scale your brand through paid social, your time will yield a far greater ROI if you make it work in Germany than in Sweden.
Now to identify your next big market, I suggest making decisions on robust data. Some do it with influencer marketing – by booking influencers in different markets and seeing how well it converts, how many people are interested in the brand, etc. Some folks venture into new markets without any prior data, and honestly, that strategy can still work. As long as you put in the effort and adapt to the unique demands of the specific market, there's a good chance your product will find success.
But I think some markets are easier than others for your specific product & brand and that's what I want to find out by pulling and analyzing some data. I want to see which big market will react to my product/brand the best by looking at the costs of advertising, conversion rate & people interested in it in the beginning.
Identifying the market with best results should save you time scaling the brand in that country and ultimately lead to fewer headaches.

I believe the best way to do this, at this moment, is by doing some simple research with Google Market Finder tool + paid social.

So let's jump right into it.
HERE ARE THE STEPS:
Select the desired markets that you would like to go in and that would make sense for your brand.

Let's say those are Germany, the UK, France, the US, Poland, and the Netherlands. Any of these countries is good for the start, because if you scale in Germany, you can easily go to Austria and Netherlands next. If you scale in Poland, you can easily add the Baltics, and if you scale in the US, you can easily add Canada & Australia.

Keep in mind that once you scale in Germany, the next country shouldn't be another big country, but you should rather go with one of the neighboring countries, because it will be much easier to scale.

Also, keep in mind that you shouldn't go for the biggest/most competitive country in the world unless you have resources for it. For example, the US is a lot bigger than Germany, but the US has way more competitors than Germany, which means you will have higher costs of advertising and, most likely, you will need more resources (team hours) to scale in the US than Germany. Also if you scale your brand in a country like Germany or France, you can still reach pretty high revenue targets like 20-30M EUR yearly just in that market alone (proven with skincare products).

I suggest selecting countries where you see a better understanding of your target audience, can effectively localize language and terminology, identify influencers and content creators, and recruit staff.

a. It's the country where you have relatives or friends, so they can help you.
b. You have worked in that country's market before (online or offline).
c. You have lived in that country or often traveled to (so you know some people that you can ask for advice or to check your website).
d. None of these above is a must, but it helps a lot, especially when you're still transitioning and trying to understand the new market and how it works, finding staff that helps with customer support or transcribing the website or marketing material.

Keeping all this in mind, lets use https://marketfinder.thinkwithgoogle.com to check all of those potential markets to see which of them we should actually target for the paid social test.

I have prepared a short video that demonstrates how to analyze these countries soit would be easier for you to utilize it:
Now, once you have selected the countries that you will target and could be your next potential markets, lets move to the next step.

2. Prepare an international website so you can start testing your select countries with paid social.

Here's what your website needs to have for a successful test:
A .com domain
Copy in English language.
Automatic currency conversion (if your list of countries has multiple currencies).
As many payment methods as possible: credit cards, PayPal, Klarna, Shop Pay, Google & Apple pay, pay on delivery (if possible for certain countries).
Flexible shipping options and good prices. If you're going to charge for shipping 4-5x more than what people are used to in their country, it is highly likely that none of them will go through with the purchase. To boost your initial conversion rate, you might need to absorb some costs, like subsidizing shipping. You might not match local prices initially, but this should only affect a small number of orders and serve as a test phase.
A clear return policy. People are going to be scared of ordering something that does not look or feel familiar or similar to what they are used to, so they will want to have the reassurance that they won't lose money if they don't like the product or the quality is bad. Having a clear return policy on the product page (just a link so it can lead to the main return policy page which should have a short text with a simple and clear explanation of when and how people can return the products and how much it's going to cost them – best would be if it would be totally free).
Reviews translated to English to make sure you have as much social proof as possible with customers' images + videos, so you can show that people trust you and there are some real people that bought the products.
3. Take your best-performing ads in your current country and translate them to English or in the local language.
If you're just starting out and you have no ads yet, then I would recommend starting in your current country where you have the highest chances to succeed before going anywhere else.
Or, if you feel confident with your skills on starting in a new market with no paid social data/success before, then go ahead and create English ads with international websites.
4. Create a new conversion campaign on Meta Ads.
Select the countries that you're going to target, set the daily budget that's appropriate for your size of the business (but don't make it too little like $5 a day), add your selected ads and launch the campaign for the next day.
5. Analyze the data.
After running it for 7 days minimum (I recommend to run it for longer, like 10-14 days to get more data) you can start analyzing the data. You need to look at the CPC, CPM & CPA costs and break them down by country.
Keep in mind that most likely the campaign won't have a good ROI and it won't be profitable, but all you need is to get the data in order to choose the market that shows the best result in the start to have fewer headaches later.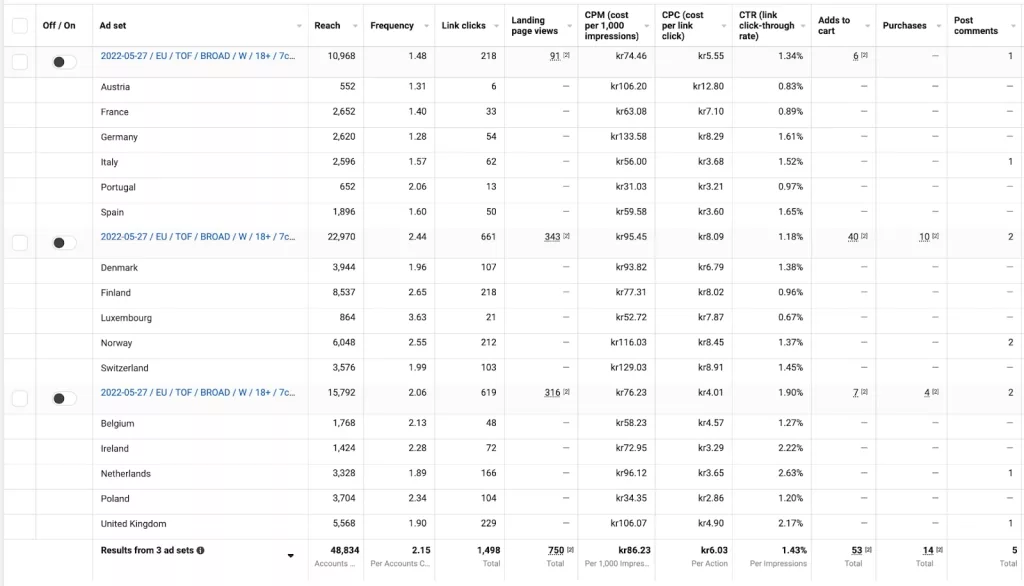 6. Here is how you're going to analyze it:
First you need to look at the CPM costs. This will determine how expensive it is to advertise in this country. This cost can decrease once you have a fully local website and more ads tested, but it still gives a pretty much good idea what CPM you should expect.

Keep in mind that if your current CPM is, let's say, 70 SEK (which is around 7 euros) and your next market average CPM is 140 SEK (which is around 14 euros), then with current CR & CTR your cost per purchase is going to increase by 2x which will make it hard to be profitable in the first purchases and you will need to either increase CR on your website or increase AOV.

So if you're getting really high CPM costs in multiple ads/ tests in that country, be prepared to tackle it or simply skip that country and choose the one that still has good results but has lower CPM.

Next are CPC & CTR. Cheaper costs per click and higher click-through rate (on conversion campaign) determine how good your ads are for that market and how much interest people have in it (in most of the situations). I would also recommend checking data in Google Analytics to see what is the engagement rate from that country's traffic so you can make sure that the traffic is high-quality and not just empty clicks. Here is how you can check it in GA4: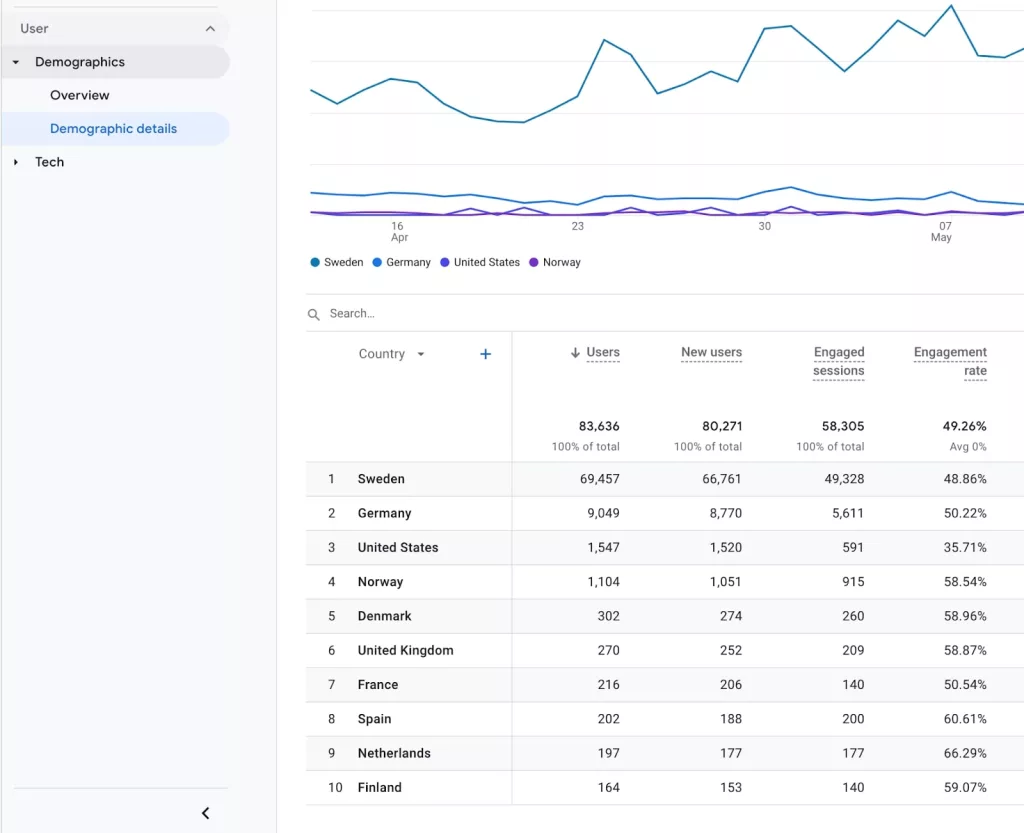 An engagement rate of 40-55% is fairly average and not cause for concern (higher is even better). If it dips to around 10-20%, despite attractive CPC, it's likely that the traffic quality from ads isn't great.
Conversions (Purchases or Add to carts) – In our example, you can't see data for different countries because at the time presented Facebook didn't provide that kind of data if you had multiple countries, but we were able to track it on Shopify. Once you launch the ads, you will see the data based on the different countries.

So getting at least a few purchases is going to be great because it shows that people are interested in your product even if it's not local. If you start seeing multiple purchases happening with a small daily budget, it's already showing great potential.

The countries that have no purchases or add to carts show that either your ads don't get enough reach or click or people are not so interested in them. Having a local website with local payments and shipping methods will make it work eventually for sure, but I would right away go for the countries that already had some purchases since I know that even with an English website I would be able to scale it a bit, and maybe even get a break-even ROI.

Now it should be pretty obvious which country (or countries) you should go for by looking at the CPM, CPC costs and conversion events and doing the research with Google Market Tool.
Choose a country that meets the following criteria:
It has a great market fit for your product, with people who can afford it and a significant potential for scalability due to a wide target audience.
You can fully localize your website, including copy, payment methods, shipping options, and content, to cater to the specific market.
Solid data from the paid social test shows promising results, such as generating purchases, reasonable CPM (Cost Per Thousand Impressions), and comparable or better CPC (Cost Per Click) and CTR (Click-Through Rate) compared to your primary market data.
If you notice multiple countries meeting these criteria, simply select one of them. You will succeed regardless of which country you choose.
Conclusion & Next Steps:
Now that you have identified your next target country, which holds the highest growth potential for your brand and presents the least amount of challenges compared to other countries, the next crucial step is to fully localize your marketing efforts and website. By doing so, you will be able to move forward and achieve optimal results in that market.
---
So the next step is to learn more about how the e-commerce works in the chosen country and implement all of that to your website & marketing:
What are the main payment methods in that country? What are people used to?
Learn more about the shipping strategies for successful market entry in a new country:

What are the main shipping methods in that country?
How long are people used to waiting for items to be delivered?
What shipping companies do people trust most?
Who are the most influential people in that country? If your product is specific to a certain niche, all you need to find out is who the main influencers are in that niche within the country.

What is the main language used in that country?
Who are your main competitors in that country?
---
If you neglect these steps, you may only achieve around 40% to 50% of your potential conversion rate. As a result, your CAC will be high, your paid social ads may not be profitable, and it will significantly impede your business's scalability in that market.

I am going to cover all of this and more in Part 2 of Breaking Borders!
Be sure to subscribe to our newsletter so you can receive a notification once Part 2 is launched.